Government Type
Federated Republic
Chief of State
- Chief of State Atara Themis
Supreme Commander
- Supreme Commander Kelly Perris
Intel Director
-Director Ronin Riedrak
Governed Worlds
Anaxes
Bothawui
Denon
Devaron
Druckenwell
Fondor
Manaan
Naboo

Rendili
The New Republic
Edit
Formed in 4 ABY, after the dissolution of the former Alliance of Free Planets, The New Republic was to become the supreme governmental authority of the galaxy. The "New" Republic was to be a reformation of the original Galactic Republic also known as the "Old" Republic. The New Republic was founded on the same premise that the old Galactic Republic was thousands of generations earlier—to have a representative parliamentary body govern the galaxy in a fair and equal manner.
Current Policies
Edit
Policies currently passed and upheld by The New Republic's nominated officials.
The Chain of Command
Edit
Chief of State
Edit
The Chief of State is both the President of the Senate and Commander-in-Chief of the Alliance Military. They hold oversight on senatorial delegations and all military actions, foreign and domestic.
Supreme Commander
Edit
The Supreme Commander was the highest title within the New Republic's Military Service Branch.
Intelligence Director
Edit
The Director of Intelligence was the highest title with the New Republic's Intelligence Service Branch.
Fleet Information
Edit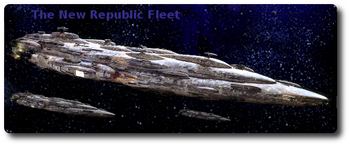 Planetary Holdings
Edit
Anaxes
Bothawui
Denon
Devaron
Druckenwell
Fondor
Manaan
Naboo
Rendili
Shipyard Listings
Edit
Anaxes
Bothawui
Corellia
Fondor
Rendili
Vessel Listings
Edit
A complete listing of all vessels usable to the New Republic Military Service Branch.
Strident-class Star Defender
Viscount-class Star Defender
Bulwark Mark III
Defender-class Star Destroyer
Endurance-class Fleet Carrier
Republic-class Star Destroyer
Majestic-Class Cruiser
Bothan-Class Assault Cruiser
Dreadnaught-Class Cruiser
Sacheen-Class Escort
CR90 Corvette
Warrior-Class Gunship
Defender-Class Assault Carrier
Prowler-Class Recon Vessel
Agave-Class picket ship
RM-09 Alliance Shuttle
Bantha-Class Shuttle
Katarn-Class Boarding Shuttle
Corellian Heavy Lifter
Hajen-Class Fleet Tender
RZ-1 A-Wing Interceptor
B-Wing All Variants
Defender Starfighter
E-Wing All Variants
U-Wing All Variants
X-Wing All Variants
Rank & Privilege
Edit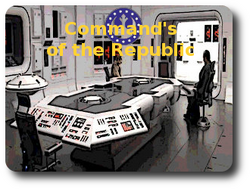 The following Ranks coincide with the listed Fleet Privileges. Support staff positions are limited to Corporals and above, while the leadership staff are limited to Lieutenants and above to show the elitist nature of these spacecraft.
Starfighter
Cargo
Transport
Starfighter
Cargo
Transport
Light
Major/Lieutenant Commander
Starfighter
Cargo
Transport
Light
Medium
Starfighter
Cargo
Transport
Light
Medium
Heavy
Starfighter
Cargo
Transport
Light
Medium
Heavy
Capital
Service Branch Information
Edit
References
Edit
Community content is available under
CC-BY-SA
unless otherwise noted.