Home Planet
Carosi VI (Origin) Recopia (Adopted home)
Species
Gen'Dai (somewhat of a runt for his species)
Affiliation
The Black Sun
Davin Moser
Edit
In Character
Edit
Biography
Edit
Davin Moser is currently working for Vaago the Hutt filling bounty contracts, but he is growing tired of the lifestyle...
Background
Edit
Davin has seen governments rise and fall and only 337 years of age he is still quite young for being a Gen'Dai. He moved to Mandalore in 201 BBY just before the Supernova wiped out his original home world he... sensed it before it happened. He went to Mandalore to become a warrior to become a man of great deeds. He started doing contracts for various people in the galaxy. One day he took a contract for an anonymous source who turned out so be members of the Seyugi Dervishes a Force-sensitive order of assassins that originated on the sulfuric planet of Recopia. When his mission was over they attempted to kill him when they found they could not he was allowed to become a full-fledged member even though he was not force-sensitive himself. He renounced Mandalore and the Dervishes gave him a red cowl and a white mask to show that he was one of them. Because of his extraordinary abilities as a Gen'dai he was able to keep up with the Fore-sensitive beings.
Training and Abilities
Edit
Regenerative properties, versed with swords, marksman. The Dervish "beautiful dance of death" and knowledge of anatomy.
Personal Armor
Edit
Duraplast armor.
Bladed Weapons
Edit
A pair of thinly-shapped vibroswords.
Special Weapons
Edit
QuickSnap 36T, a pair of Model 434 heavy blaster pistols at his side, as well as a Merr-Sonn Model Q4 "Quickfire" in his boot, he also carried Thermal Detonator (3) WW47-CryoBan Grenade (3)
Hand to Hand Combat
Edit
Trained in Hijkata and Stava.
=Personal Spacecraft
Edit
I-7 Howlrunner
Roleplaying Thread Links
Edit
Here you can add links to all your character's roleplay threads.
Out of Character
Edit
About the Roleplayer
Edit
Here you can tell us a little about yourself and your inspirations for Roleplaying.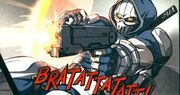 ===Other Characters Played===
Here you can link and list all of the characters you roleplay.
Community content is available under
CC-BY-SA
unless otherwise noted.