Affiliation
Bounty Hunter
Kancy Lorovest
Edit
About the NPC
Edit
AppearanceEdit
Kancy has red hair that is always either down, in a braid, or something of that sort. Nothing fancy for her. Her silver eyes and pale skin make for a good combination it seems. Kancy doesn't care much about what she wears, so she will wear a dress whenever necessary or it could be just jeans and a sweatshirt one day. You never know really with her.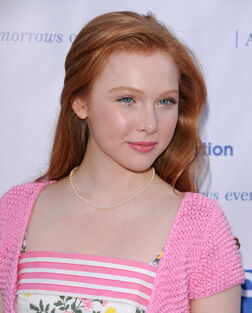 PersonalityEdit
(A detailed description of the NPC's personality. This can and should include things like their opinions on the Jedi/Sith/NR/GE/etc, as well as any mental ticks and quirks they have.)
Okay so here's the thing. I have this friend named Gart'Aia who owns the Greasy Days Diner down in Coco Town, and she suddenly up and asks me a favor. Now, usually, I wouldn't do anyone a favor unless I wanted to... but Garti's always kind of taken care to give me whatever I need when I need it. So, I figured just this once I'd do something for her. So, she introduces this Robin girl, probably about a year younger than me, and tells me I'm supposed to take her to the Undercity to meet some guy. I'm totally suspicious by now of course, and wondering what this kid would want to meet a guy who hangs out in the Undercity for. Though, I'm not one to really ask too many questions, since I don't want any asked of me. The job seemed ludicrous at the least, and I wasn't about to do something so foolish as to take some girl into the Undercity... but then Garti practically begged. Look, I'm no sucker for an old woman, but I do know that when Garti asks you to do something its kind of hard to refuse. Since you know she'd do anything for you if she were in your place. So I finally agreed. Well, we're about to leave, so I'll have to just write about what happened later.
[Journal Entry 1]
LifestyleEdit
(A detailed description of the NPC's day-to-day life. This includes where they live - planet, city, and home - as well as their occupation and any other activities that fill their time. Where can the NPC usually be found and what are they doing there?)
(A brief history of the NPC's life, including any important details that might be referred to within IC posts. Please also include any friends, family, and/or enemies the NPC has.)
ConnectionsEdit
Robin-Intelligence Techie
(A detailed description of what skills the NPC has. This can include things like mechanics, scholarly pursuits, fighting skils - including melee and ranged weapons - social and political skills, piloting skills, and skills with electronic devices. Please note, no NPC may use the Force.)
Roleplaying Thread LinksEdit
[Roleplaying threads will be added here at a later time].