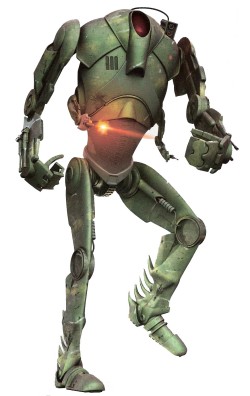 &nbsp
Bee-Tu
[[Image:|250px|center]]
Full Name
B2 Super Battle Droid
Alias
B2, Bee-2, Bee-Too, Super Battle Droid
Age
Creation Date Unknown
Residence
Discovered by Rask Tamor on Tatooine
Other Family
Rask Tamor (Owner)
About the NPC
Edit
AppearanceEdit
A classic B2 Super Battle Droid from the Clone Wars, that has been heavilly modified and ressembles a B3 Battle Droid
PersonalityEdit
Through serious programing, Bee-Tu has gained emotions, intelligence, and obidience to Rask Tamor. His Memory core has been wiped so he has no memory of the CIS or any other droids. He assists Rask on bounty hunting missions and lives for the hunt. He also is an adept co-pilot.
ConnectionsEdit
He obediently assists Rask Tamor on various tasks
He has the wrist rocket common to all B2 Battle Droids, however, he has been equipped with numerous hidden weapons, including a shoulder cannon and ankle rockets. He can serve as pilot or co-pilot on Rask Tamor's ship, The Condor.